Initially motivated by a brief discussion with one of my colleagues, towards the end of last term I ran a few Twitter polls to gauge different teachers' conventions when it comes to teaching Mechanics. We'll take a look at them one by one:
Poll 1: Newton's second law
The poll also attracted a thread of nearly 20 comments. Curiously, the majority opinion in the comments was the minority opinion in the final poll result (the second option)! Other comments made reference to the fact that we should of course label equations to indicate that we have resolved (ie applied Newton's second law) on a particular object.
My personal opinion is the second option: R – mg = 0. It is a specific instance of Newton II where the acceleration happens to be zero. Why would we deal with the equilibrium case so differently and give students two (related but) different ways to tackle problems? [In fact, I sometimes wonder if we should teach some simple acceleration problems before looking at equilibrium as a special case?!]
Interestingly, all the comments that supported option 2 argued a similar point. The comments supporting option 1 didn't really argue why it might help students. One commenter pointed out it could reduce sign errors and another liked developing students' intuition around the balance of forces. (I have another worry here that students may forget that even if forces are 'balanced', the object could still be in motion.)
My main point
Neither is incorrect, but I would teach the "F=ma" approach for all situations, including equilibrium, so students only have to learn a single method. It also means they pay attention to the language used and deduce from 'in equilibrium' to that a=0.
Poll 2: Acceleration Arrows
A very common student misconception in Mechanics is that the direction of acceleration matches the direction of movement. However, wherever possible, I think it makes sense to draw the acceleration arrow to match the direction of motion and this goes hand in hand with interpreting 'deceleration' to mean a negative acceleration.
If you show students (or teachers) the diagrams above without any context, our initial intuition would be to think of A as travelling upwards but slowing, and B as travelling downwards and getting faster. Of course, either of the diagrams could match either of those situations and we wouldn't know which until we were given some information about the object's velocity.
My main point
Neither is incorrect, but wherever possible I try to draw diagrams in a way that appeals to our intuitive sense of what is happening. (And never deduce the direction of motion from a force diagram!)
Poll 3: Collisions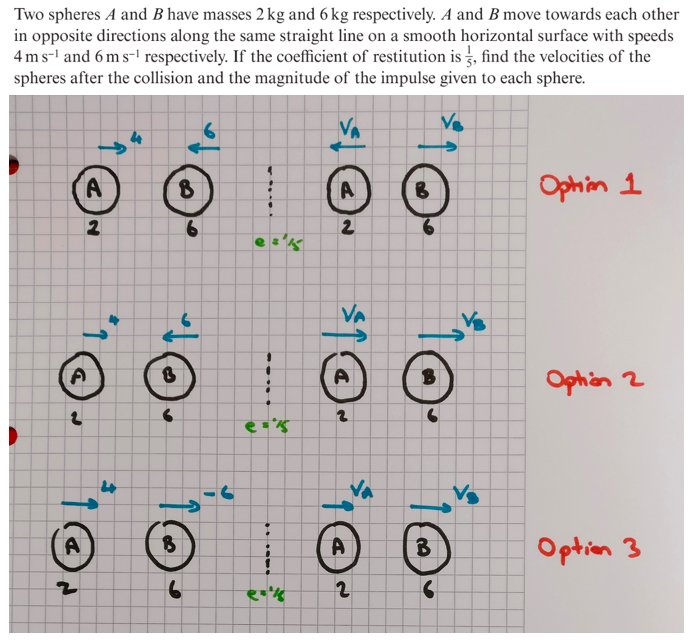 I'll be honest here, and I admit that deliberately I included Option 1 as a bit of a red herring. Following on from the idea of intuition in the last poll, it's perfectly reasonable to consider that the particles might travel in opposite directions after the collision, but in fact they don't. Of course, we don't know this for certain until we've solved the equations and we just get a good diagram drawn and then trust in maths to get the signs right for us at the end. I think one risk with Option 1 is if all students get the 'speed of separation' correct, but maybe I should have more faith.
I think collisions is the one area where I haven't fully made up my mind and part of the purpose of this poll was to gauge a majority opinion and to see if that would make me reconsider my own view.
My approach to teaching this topic over the past few years has been to use Option 3: drawing all of the velocity arrows in a common direction, and then assigning them negative values if we know a particle is travelling in the opposite direction. My reasoning is that this helps get signs correct in the conservation of momentum equation and, moreover, I teach the restitution equation symbolically as
rather than using the phrasing 'speed of separation' and 'speed of approach'.
I'm conflicted because this plays along the lines of giving students a single all-purpose method (as discussed with Newton II above) but somewhat goes against the idea of drawing a diagram that matches our intuition (as discussed with acceleration arrows above).
My main-ish point
I really am torn here. I think I'll continue to teach Option 3, with consistency winning over intuition. (To be honest, some days I'm just glad students draw diagrams at all!) I'm very willing to debate this one further though.
In summary…
Prioritise consistent approaches to solving a whole class of problems, reducing the number of methods students have to learn
As far as possible, draw diagrams to match intuition (but don't apply the converse and assume a diagrammed system is behaving as you intuit!)
We all nag students to draw good diagrams and to label their equations. It took me a long time to figure out that I should isolate these skills in tests if I really want students to take notice. (Eg give the setup for a full mechanics problem, but only ask for a force diagram; or provide a force diagram and ask for a labelled system of equations (and for them to remain unsolved); or even, present the diagram and the equations and simply ask students to insert the appropriate labels.) In short, if you want them to develop a specific good habit, then test them on that specific good habit!
A footnote on Newton II
Of course, we could argue that F=ma is a special case restricted motion in one-dimension and we should write F=ma and deal with vectors. But then this is a special case, assuming that a is constant so we should write F=m dv/dt. But then this is a special case that assumes the mass is constant, so we should write F=d(mv)/dt.
How do I reconcile this with my approach to consistency and teaching a single method for a whole class of problems? Well, up to (old spec) Mechanics 2 student don't meet situations with varying mass etc so there's no need for that extreme generality. It is always nice to discuss it in passing though, especially once they've learned about separable differential equations.